Locations
The firm's real estate team has been recognised for the consistent quality of its client service as well as its depth and outstanding capabilities as one of the most comprehensive real estate practices in the UK.
European law firm Fieldfisher's Real Estate practice is proud to announce it has been nominated for 'Real Estate Team of the Year' at the Legal Business Awards 2023.

Fieldfisher offers a full-service real estate practice encompassing transactional real estate, construction and infrastructure, property and construction disputes and planning.

Our team is based throughout the UK in London, Manchester, Birmingham and Belfast.

Among the many and varied matters on which we have supported clients in the past year, the Covid-19 pandemic and climate change are two of the major trends that have wrought major changes in the UK real estate sector, including wholesale retrofits of buildings and accompanying lease renegotiations.

Having developed specialisms in what were previously niche asset classes such as purpose built student accommodation (PBSA), data centres and warehousing, we have also ridden the wave of growth in these sectors and been the first choice legal advisers to clients seeking advice on these assets.

The ESG and 'Net Zero' agendas underlie everything we do, requiring detailed understanding of the relevant legislation and in-depth knowledge of the market so we can advise our clients how to respond.

Highlights for the Fieldfisher's Real Estate team in the past year include:
The team's appointment to the HS2 legal panel;
Advising the City of London Corporation on the relocation of the historic Smithfield's Market to Barking and Dagenham;
Advising CA Ventures on the sale of a portfolio of three PBSA developments in Sheffield, Glasgow and Edinburgh to vehicles managed by Apollo Global Management for £161 million;
Acting for Kennedy Wilson's JV with GIC in the acquisition of in excess of £250 million of industrial and logistics assets;
Acting for a major US sportswear brand in relation to the lease of new premises in the redeveloped iconic Battersea Power Station six figure annual rent;
Acting for Dominvs Group on the development and £173 million forward funding (the largest ever deal in this sector) of a large development site for mixed hotel accommodation and PBSA at the former Hammersmith Magistrates' Court in London; and
Acting for a number of energy clients regarding injunctions against protest groups.
Since the return to business as usual following the Covid-19 pandemic, Fieldfisher has continued to recruit to its Real Estate Practice, and today the group stands at around 120 partners and fee earners in the UK alone.

Commenting on the Fieldfisher Real Estate team's inclusion in this year's Legal Business Awards shortlist, Antony Phillips, Head of Real Estate at Fieldfisher said:

"I am proud to lead one of the most high quality and comprehensive real estate teams in the UK.

"Our commercial nous, depth of experience and commitment to delivering first class service mean that our clients are confident in making decisions based on our advice to ensures they realise the maximum potential from their assets.

"We are grateful to our clients for placing their trust in us on their real estate matters, and for their kind words in support of our nomination."

See the full Legal Business Awards shortlist here.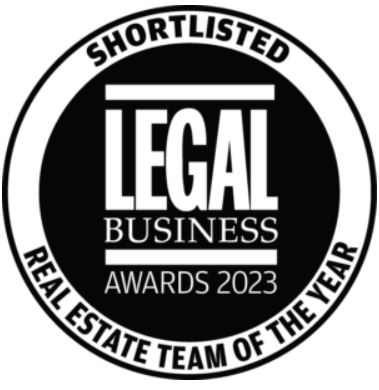 What our clients say:

"Fieldfisher has supported us in the UK since we commenced our operations there some four years ago.

"They have taken time to get to know our business and they think carefully about how best they can support our ambitious plans for growth in a new market.

"We value their determination to provide top drawer client service and their demonstrable commitment to delivering added value.

"They provide accessible partner level support when we need it and fabulous fee earner support at other times. We are happy to have them on our team."

- Aaron Vanderpool, Senior Attorney, Burns & McDonnell

"Fieldfisher's support [on our entry to the UK PBSA market by acquiring land in Glasgow, Edinburgh and Sheffield] was exemplary. Under the most testing of circumstances they helped us achieve what at some points seemed almost impossible.

"Their resourcefulness, ingenuity and knowledge are second to none and the successful completion of this, our first European venture is in no small part down to Rhodri Pazzi-Axworthy and his team."
- Carlo Matta, Head of European Ventures at CA Ventures

"The ongoing legal advice from the team has been critical in enabling the Society to successfully navigate a range of challenges as we work towards securing a consent that will transform the work of the charity.

"We get from Fieldfisher, not just technically excellent advice on black letter law but good sensible, tactical and strategic guidance which we value."

- Kevin Bourner, Director of Land and Estates, Epilepsy Society

"The strength of Fieldfisher's practice comes in their ability to provide a full service with real commercial skills, market intelligence and insight, and an unsurpassed client experience.

"The real skill in the service is to take ultimately very complicated matters and bring them to everyone's understanding in a way which leaves no one behind. In our Group, the in-house function acts as business partners and the focus is on contributing to the enterprise goals.

"The Fieldfisher team understand that about us and really work with us to understand our business and the way in which we identify, assess and mitigate risk. Consequently, we receive rapid, interdisciplinary responses to the complex challenges we face."

- Helen Mason, General Counsel, Morgan Sindall Group plc

Sign up to our email digest
Click to subscribe or manage your email preferences.
SUBSCRIBE