Why choose our energy disputes lawyers?
We represent energy clients in numerous jurisdictions, with particular specialisms in Russia and the CIS, Africa, Europe and the UK, and provide a full dispute resolution service. This includes acting for major and independent energy and natural resources companies, power producers and distributors, pipeline operators and users, equipment suppliers, service and drilling companies, and project financers and financial institutions.
---
Our expertise includes structuring investments, contract negotiation and dispute avoidance, and representation in local courts and international tribunals under LCIA, ICC, ICSID, UNCITRAL and SCC arbitration rules.
Our dedicated energy dispute lawyers draft arbitration agreements, advise on contractual and non-contractual rights and obligations, negotiate settlements and prepare claims or defence. We also assist clients in implementing their commercial strategies and represent clients in Energy Charter Treaty and other treaty disputes.
---
Our energy disputes team works closely with our wider energy and natural resources group to combine technical industry knowledge with proficient disputes expertise and flexible case management approaches to deliver the best possible outcome for our clients.

Notable instructions
Representing Littop Enterprises Limited, Bridgemont Ventures Limited and Bordo Management Limited in an investment treaty arbitration before the Stockholm Chamber of Commerce regarding a breach of the Energy Charter Treaty by the State of Ukraine.
Representing a Dutch investor in a public international law Bilateral Investment Treaty claim under ICSID Rules relating to an investment made in a household name transport business in Ukraine.
Representing investors in four interlinked public international law Bilateral Investment Treaty claims under UNCITRAL Rules, Hague seat, relating to real estate investments made in Russia.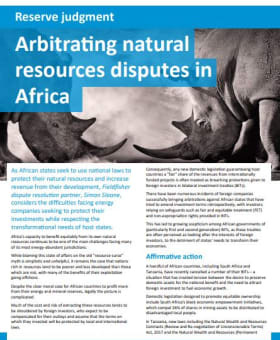 Reserve Judgement: Arbitrating natural resources disputes in Africa
Fieldfisher dispute resolution partner, Simon Sloane, considers the difficulties facing energy companies seeking to protect their investments while respecting the transformational needs of host states.
Download
Latest insights for Energy Disputes
Sign up to our email digest
Click to subscribe or manage your email preferences
Subscribe