Why choose our Restructuring and Insolvency lawyers?
We cover the full spectrum of the distressed curve, acting for companies, boards, secured and unsecured creditors and insolvency practitioners throughout the industry. Our team of specialists works closely with many lenders and international creditors, and professional and SME boards, considering strategy in distressed scenarios. We work with all the major firms of insolvency practitioners, implementing their strategies and bringing claims, and also use insolvency processes as a fraud recovery tactic.
Our expertise includes assisting companies in dealings with their secured and unsecured creditors, and other stakeholders including pension trustees. We offer advice on strategy, risk and responsibilities and frequently advise boards of directors on their personal risk and how to mitigate it.
---
We advise creditors how best to maximise their recoveries in a distressed or insolvency scenario, with any such strategy balancing the risk and cost of the insolvency process, against the alternative of consensual solutions, and have extensive experience advising on likely outcomes in such situations.
---
We work with insolvency practitioners to affect sales of businesses and assets in time pressured environments, both maximising realisations and mitigating exposure of the IP, and have specialist expertise across the pharma/life sciences, energy and natural resources, tech and finance sectors.
---
Our lawyers litigate for insolvency practitioners and funders, bringing Insolvency Act claims, misfeasance and breach of duty actions and trust and tracing claims, and we have particular expertise in CIS/Russia issues.
---
We represent clients ranging from listed companies and major accounting firms, to SMEs and niche insolvency practitioners, and our dedicated, partner-led team delivers the highest levels of technical excellence.


Notable Deals

We represented Plastipak Holdings, a US packaging company, in the acquisition of the PET Division of La Seda de Barcelona ("LSB"), a Spanish listed company which, together with its European subsidiaries, had filed for Insolvency at Barcelona Commercial Court. The acquisition, for an amount of €230 million, involved assets in 12 different jurisdictions.
We acted on the restructuring and subsequent administration of the Circle Oil Group of companies. This involved a COMI shift to the UK and the restructuring of $50 million secured debt. Fieldfisher advised the companies and the administrators in respect of assets and debts spread across the UK, Morocco and Egypt, dealing with oil and gas exploration licences with the governments of those countries.
The team acted for the administrators of Redx Pharma Plc, an AIM listed pharma company, in a ground-breaking corporate rescue. This saw Redx return from administration to the control of its directors and its shares were re-listed on AIM. Redx operated in the highly specialised pharmaceuticals sector and traded whilst in administration, raising a number of complex issues which were highly unusual in the context of an administration.
We assisted UWV (Employee Insurance Agency; an autonomous administrative authority commissioned by the Dutch Ministry of Social Affairs and Employment to implement employee insurances and provide labour market and data services), a regular client of the firm, at the Supreme Court of the Netherlands. The issue concerned the ranking of claims by the governmental client in the insolvency of a Dutch company, and we successfully obtained a judgment that the claims ranked as a super-priority, behind only the liquidator's own fees.
We acted for a global manufacturer, which acquired a company that had entered into a facilities agreement with ISDA Master Agreement terms with Landsbanki. A dispute had arisen as to whether the original transactions were terminated after Landsbanki went into administration, which was made more difficult because in December 2015 Landsbanki came out of administration and it claims that the transactions were merely suspended as a result.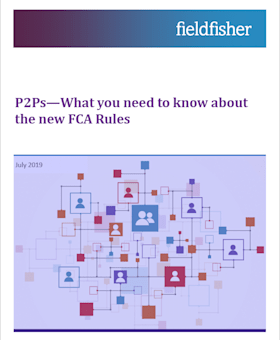 P2Ps - What you need to know about the new FCA Rules
The Financial Conduct Authority (FCA) has published new rules for loan-based P2P platforms1 1 which will come into effect ton 9 December 2019. The introduction of the new rules is timely coming after the collapse last month of Lendy, a P2P platform that facilitated loans to property developers.
Latest Restructuring and Insolvency news and views
Sign up to our email digest
Click to subscribe or manage your email preferences
Subscribe